10, September 2022
7 Major Benefits of Silicone Sealants that make it the best sealing choice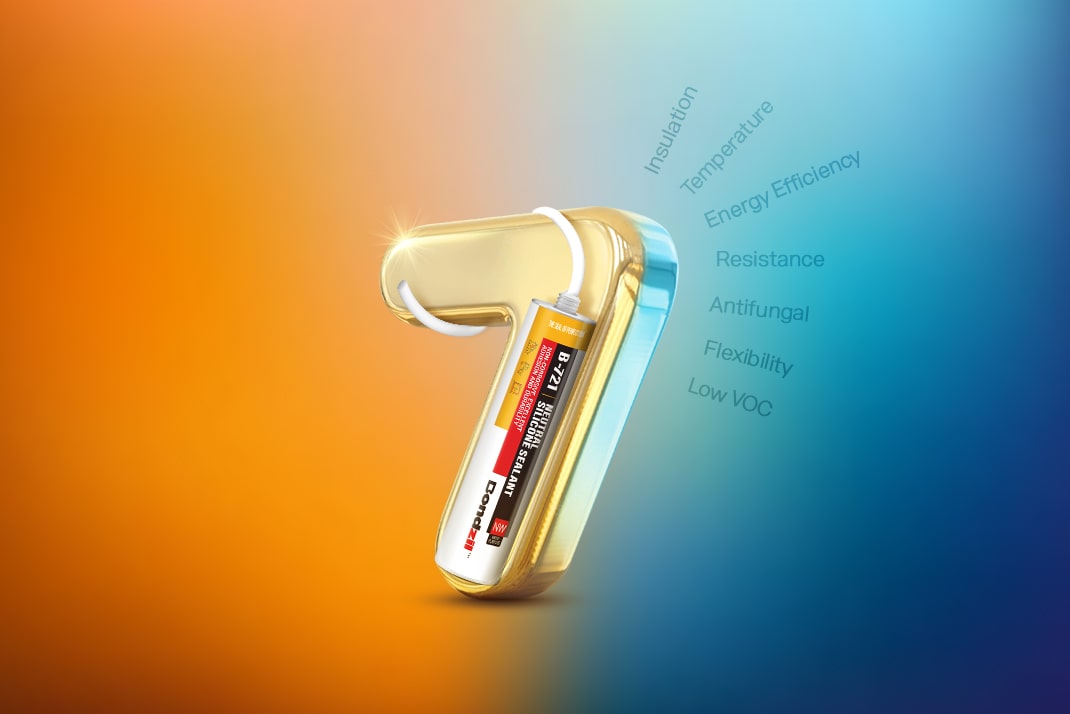 What is a Silicone Sealant?
Silicone sealants are used for miscellaneous applications in a large array of industries all around the world. Also, the benefits of silicone sealants are remarkable.
An industrial silicone sealant is a form of adherent gel most frequently used to make an airtight or watertight seal at the intersection of two surfaces.
The initial viscosity of silicone sealants is often liquid or gel-like. After proper curing in an environment with adequate temperature and humidity levels, this eventually hardens to a more durable, rubber-like consistency.
The consistency of a solid silicone rubber that is both strong and flexible is what silicone sealant products eventually attain after being profusely cured.
Benefits of silicone sealants
Energy Efficiency
One of the major reasons for energy loss in your building is the gaps between your windows. Depending on how well the space is sealed, you may be able to save a lot on heating and cooling costs.
It is due to the fact that a well-sealed space prevents conditioned air from escaping through gaps around the frames of the building. Weatherproof silicone sealant prevents moisture or cold from seeping in through gaps during extreme weather conditions. As an additional benefit of silicone sealants, indoor air quality (IAQ) and occupant comfort are improved.
High Tolerance to Extreme Temperature Changes
Compared to other types of sealants, silicone sealants are far more capable of enduring high/low-temperature changes. Their greatest strength, perhaps, is they can connect almost any two materials together.
They are a desirable building material since they are also resistant to thermal expansion and contraction, wind oscillation, and even seismic movement– thus making it one of the major benefits of silicone sealants when used for construction.
Silicone Sealants Provides Exceptional Insulation
The flexibility and durability of Silicone Sealants make them ideal for insulating homes against extreme temperatures.
As a result of their ability to remain stable at both high and low temperatures, they are far more durable than ordinary rubber sealants.
Supreme Flexibility
These industrial silicone sealants can expand and contract according to changing temperatures due to their elastic nature. The versatility of these products makes them suitable for use in a variety of situations and a wide range of purposes.
In addition to absorbing strain and stress, a silicone sealant's elastic nature also provides a smooth and safe surface.
Extreme Heat Resistance
Although most general-purpose silicone sealants are somewhat heat resistant compared to other forms of adhesives.
It is advised, however, to use a heat-resistant silicone sealant like Bondzil's weather silicone sealant when exposed continuously to high temperatures.
So, being able to withstand extremely high temperatures is one of the biggest benefits of silicone sealants.
Antifungal & Antibacterial
Suitable for humid environments such as kitchens, Bondzil's silicone sealants ensure a watertight seal.
Basic silicone sealants are susceptible to fungus growth in hummus areas. As a result, when it comes to applications in such areas, the best silicone sealant is one that resists mould and mildew, as well as other contaminated microorganisms.
Low VOC & Chemical Reactivity
There are plenty of silicone sealants available for industrial and commercial applications that are low-reactive, non-VOC and virtually odourless.
How can Bondzil help you?
Bondzil is one of India's leading silicone sealant manufacturers offering a wide range of high-performance sealants serving everyday purposes, there is extensive research backed by technology & thinking. Our range of Neutral Purpose Silicone Sealant is perfectly suited for all kinds of applications-
B-721

This Neutral Silicone Sealant is a single component Neutral Cure Silicone Sealant. Due to its non-staining properties, it is ideal for granite and marble applications, including the attachment of marble sculptures and sanitary ware. It is resistant to ozone, ultraviolet light, and extreme temperatures & can be used both indoors and outdoors.
B-722

This Neutral Universal Silicone Sealant is an exclusive weather sealing and glazing sealant. A highly resistant weatherproof seal is formed on the facades and windows of buildings. Furthermore, it can be used for sealing applications where acetoxy silicone isn't desired, such as bath fittings and modular kitchens.
B-723
This one-component neutral silicone sealant is highly durable, non-corrosive and mould-proof. It is specifically designed for the most demanding sanitary applications. The sealant can be used to seal connection joints between a variety of substrates in wet environments.
Check our complete range of Neutral Purpose Silicone Sealants here.