03, January 2023
B-701 General Purpose Active Silicone Sealant Usages & Importance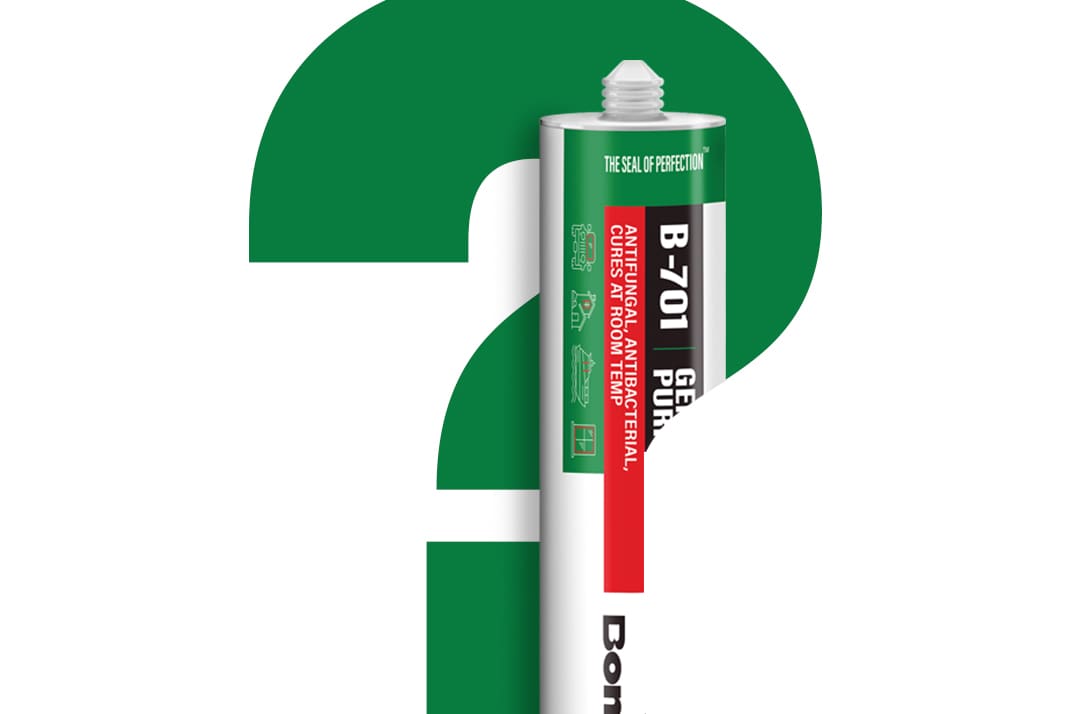 Are you tired of your leaking windshield? Or the streak of water seeping in from the gaps between your windows? Worry not, Bondzil B-701 General Purpose Active Silicone Sealant is the perfect sealing solution for you.
Why is B-701 General Purpose Active Silicone Sealant so effective?
B-701 General Purpose Active Silicone Sealant is a single component Acetic sealant that produces a non-slump paste and cures at room temperature in just 7 days.
The seal produced by this silicone sealant remains crack-free and elastic forever. B-701 General Purpose Active Silicone Sealant can be used from -20°C to 120°C and its antifungal, antibacterial formula ensures that your space remains mould-free and safe.
B-701 is available in numerous different shades- black, white, clear, and red to name a few. Its unique technology makes it environmentally safe too as it possesses a Low VOC.
This weather-resistant silicone sealant is also highly resistant to Ozone and UV radiation, making it the ideal silicone sealant choice for indoor and outdoor applications.
What are the applications of B-701 General Purpose Active Silicone Sealant?
1. Car Windshields
Bondzil B-701 General Purpose Active Silicone Sealant can help with a wide range of car & other automobile issues.
It can precisely repair small fissures and scraps around a windscreen that causes leaks.
Some car models have a slight gap between the windscreen and the frame to which it is attached. This gap is imperceptible to the naked eye, but it allows moisture to enter a vehicle. You may believe that a small amount of water entering your car is not a big deal, but wait until winter arrives and this water freezes, deepening the damage. Our automotive silicone sealant, on the other hand, can bridge this gap.
Condensation caused by a leaking windscreen in your car has serious long-term effects on your vehicle, including the formation of rust on metallic frames and other parts. This crisis can be averted temporarily by using our weather-resistant silicone sealant.
To preserve the aesthetic of your car, we suggest you use the black silicone sealant to seal the gaps between your car's windshield.
2. Glass or Wooden Windows
Our B-701 General Purpose Active Silicone Sealant is the perfect silicone sealant for windows. Be it wooden or glass, it seals the fissures in a precise fashion. This silicone sealant's unique formula makes it safe for wooden windows, as it keeps them from rotting by keeping moisture away.
Talking about safety, B-701 is highly invulnerable to UV radiation & Ozone making it the best bet for an indoor sealing application.
This indoor silicone sealant also locks rain, snow, and wind out and creates a more energy-efficient atmosphere inside your space.
3. Marine Vehicles
B-701 General Purpose Active Silicone Sealant also acts as a multipurpose marine silicone sealant for commercial and recreational boats.
This watertight marine silicone sealant can be used for above-the-water sealing and bonding. Seaworthiness is significantly improved by silicone sealants since they bond multiple substrates, such as thru-hull fittings.
Since B-701 silicone sealants have a high tensile strength and good adhesion it meets the requirements to be used on a deck and hull. As a result of its high flexibility, marine equipment also has a longer lifespan, since it needs to bend when it encounters rough seas and waves.
By forming a solid, elastic bond on the windows, these marine sealants play a crucial part in guaranteeing the vessel's water tightness. This characteristic helps prevent water from entering the marine vessel and ensures the safety of those inside.
4. Construction Applications of Silicone Sealant
The high durability of B-701 silicone sealant makes it an excellent building material for houses and buildings, and it can withstand extreme weather conditions, moisture, and sunlight without cracking.
Bondzil General Purpose Active Silicone Sealant allows you to easily paint over it and retain your aesthetic. It also offers numerous other benefits-
B-701 silicone sealant extends the life of exterior paints and coatings and helps them withstand the effects of sun, salt, pollution, and ageing.
Using B-701 construction silicone sealants ensures structural materials remain in place when they are expanded, constructed, connected, or moved. This sealant also adds flexibility to building structures, allowing materials to absorb stresses and movements caused by wind and earthquakes.
As a result of this outdoor silicone sealant, buildings become more energy-efficient because humidity and cold or hot air cannot enter through joints or cracks.
It can be used for glazing in commercial and industrial structures, in order to protect and maintain the long-term quality and appearance of their façades. Glass panels in building façades are insulated and protected from UV radiation using silicone sealant and glazing.
Conclusion
Bondzil B-701 General Purpose Active Silicone Sealant is an innovative and multi-purpose sealant suitable for construction, marine, automobile, and window applications.
This is the best way to ensure your creation has a long and safe lifespan while also being extremely energy efficient.
Bondzil also offers sealing solutions for modular kitchens, bathtubs, and other applications. To check our entire catalogue, click here.