13, January 2023
Introduction to Bondzil Silicone Sealant & their uses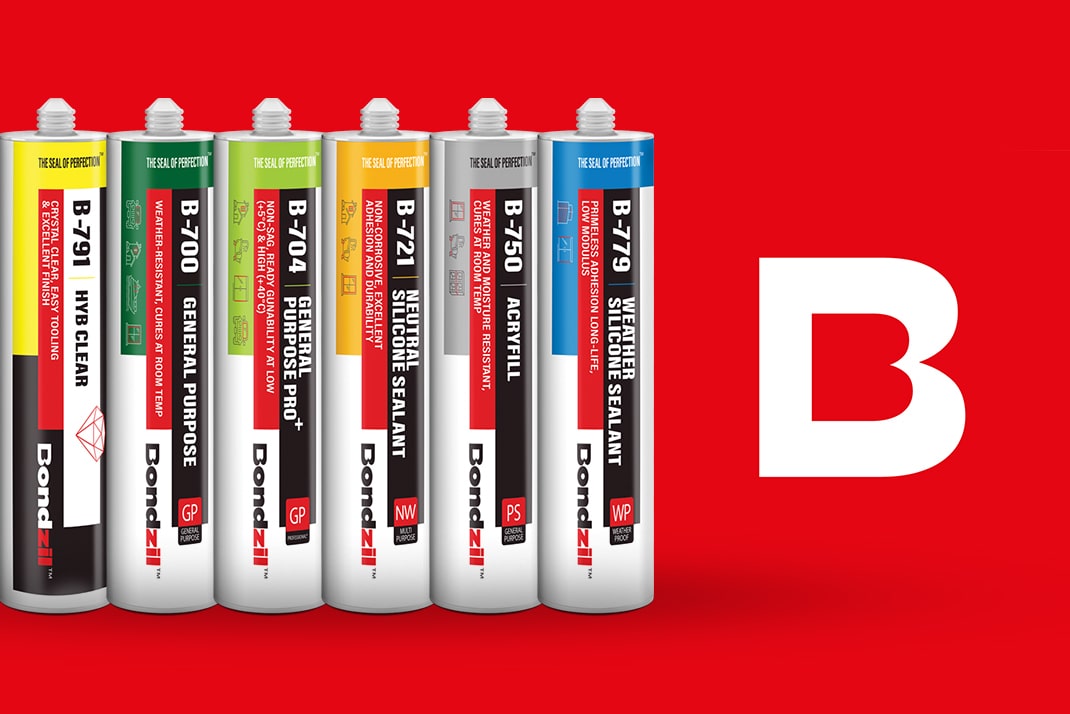 Bondzil is a rising name in the silicone sealant industry. In a short span of time, Bondzil has gained the trust of many hardware professionals through excellent product quality, flawless service & timely delivery.
Bondzil silicone sealants are trusted & recognized by international markets as well. Bondzil supplies silicone sealants to Africa, Europe, and India. The quality of sealants produced passes the global benchmark test set by ASTM, BSI, & ISO.
Currently, it offers the widest range with 5 categories and 72+ types of silicone sealants. This range of silicone sealants has been developed and formulated with 16 years of expertise in the adhesive and sealants industry.
The 5 categories have been developed to serve different specifics in the hardware industry. Each sealant is for a different surface & a different application, one thing that is common across all the sealants is their efficiency of sealing gaps & making the space completely airtight & watertight.
The 5 main categories offered by Bondzil are General Purpose, Neutral, Weather, Acryfill & HYB Silicone Sealants. Let's discuss the categories & their USPs in depth.
Types of Bondzil Silicone Sealants & their uses:
1) General Purpose Silicone Sealants
As the name suggests, the general purpose silicone sealants are used for general indoor constructions. The 8 silicone sealants falling under this category are used for everyday applications.
This category is used by hardware professionals & also by DIY enthusiasts as it is simple and can also be used for basic household repair.
Bondzil silicone sealants from B-700 to B-707 fall in the general purpose range.
It is a cost-effective single-component acetic sealant that vulcanizes at room temperature & forms a flexible seal. Generally used for plumbing, ductwork, and standard glazing.
This category also includes General Purpose Aquarium Silicone Sealant, this sealant is formed to emit a very less amount of chemicals, and this characteristic makes it safe to use in the application of Aquarium.
2) Neutral Silicone Sealants
The USP of this category is that the 3 sealants falling in this category are non-staining.
Due to the non-staining property of the neutral silicone sealant, it is used for the installation of tiles and sanitaryware.
It is mainly used on materials that are known for their beauty and rustic charms like granite and marble. Imagine how much a black stain or white stain can damage the beauty and elegance of marble tiles.
These sealants can be used for indoor as well as outdoor applications. Bondzil Neutral Sanitary Silicone Sealant - 723 is specially designed for plumbing and sanitary purposes.
This category is used for non-structural glazing, panel stiffener applications, closing gaps between tubs, sinks and also used for mounting glass doors.
Another great thing about the seal produced by a Neutral Silicone Sealant is that even after being in constant touch with water, the seal doesn't turn yellow or damp.
To explore our range of Neutral Silicone Sealants tap here.
3) Acryfill Silicone Sealants
The formulation of Acryfill sealants is done through acryfil emulsion. When a sealant is formed using this method, it produces a super thin and smooth seal.
These sealants are used for the application of moving joints like space between wall & doors, space between windows, gaps between tiles, etc.
Another benefit of using Acryfill Silicone Sealant is that it is paintable.
4) Weather Silicone Sealant
It is known as architectural and engineering-grade silicone sealant. Weather silicone sealants are formulated to stand tough against extreme weather conditions.
It is mainly used for outdoor constructions like building of curtain wall, installing solar panels, metal rooftops and others.
It is used on surfaces such as concrete enamelled and reflective glass, wood glass-glazed surfaces, masonry, fluorocarbon-coated aluminium, heat-strengthened glass etc.
The weather silicone sealant is UV resistant and thus retains its strength and flexibility for a longer period of time.
5) HYB Silicone Sealants
This silicone sealant is perfectly clear, impartial, and flexible formulated through SMP Technology.
This range of silicone sealants by Bondzil produces the strongest seal and is used in the automotive industry for construction purposes.
It is also used in large-scale infrastructural construction like the building of facades, ACP Panel installation at the front, building of curtain walls and much more.
It can also be used for the interior bonding of glass and other transparent materials.
WHY CHOOSE BONDZIL SILICONE SEALANTS?
As mentioned earlier Bondzil is the emerging name of the silicone sealant industry.
- The silicone sealants are formulated with 16 years of expertise
- Bondzil offers the widest range of silicone sealants with 70+ types of sealants
- The sealants are available in three primary colours clear, white and black
- As per the demand and quantity the range of silicone sealants are available in cartridge as well as sausage packaging.
- Bondzil silicone sealants are certified by international standards
- No delivery delays or order shortages
- A huge facility equipped to produce 1 lakh units everyday
- Benchmark of quality in the sealant industry
Silicone sealants by Bondzil can be your partner in fixing, sealing and joining things. To explore our wide range of quality silicone sealant, follow this link.