15, July 2022
All you need to know about windshield silicone sealant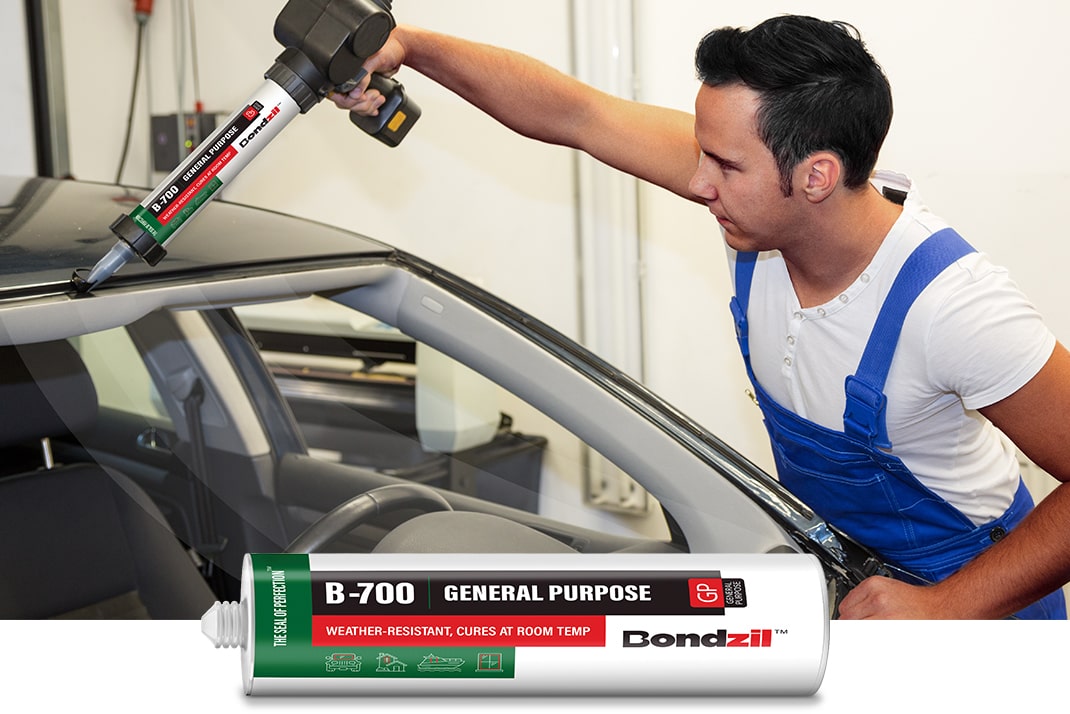 You must be wondering why might one even need windshield silicone sealant? Can't one simply use any adhesive? Well, you might if you want to increase your expenses further.
Now imagine yourself on a cozy rainy day, and you decide to take your car for a spin to enjoy the beauties of the monsoon. But, as you cover a certain distance in the rain, you find the dampness seeping through your windscreen, completely overturning your mood.
It might also give way to poor visibility and damage your car's interior. It leaves you irritated and believing you might require a windscreen replacement.
The simple solution is likely windscreen silicone sealant. For minor cracks and flaws in your windshield, using a silicone sealant for car glass can save you time, money, and trouble.
What is a windshield silicone sealant?
As the name suggests, it's a silicone sealant for car glass that seals up minor cracks and fissures around the windscreen gasket.
In order to create a durable seal, these silicone gels reach into places that are difficult to reach, such as the space between the windshield and the gasket. If you're afraid that the sealant might damage your car's aesthetics, then you can breathe easily.
Our black silicone windshield sealant is a cost-effective, single-component sealant that can seamlessly blend with your windshield gasket, making it look brand new.
In case you desire a more translucent look, you can use our clear windshield sealant, in addition to being viscously fluid, these silicone sealants run down and fill all the cracks and holes while settling nicely.
After it cures, the silicone sealant is completely clear. It is imperative that the sealant be applied correctly for it to bond to the glass and fill in any cracks and crevices.
Apart from windshields, this type of silicone sealant can also be used on sunroofs, side windows and RV windows. All glass silicone sealants are waterproof and capable of resisting harsh temperatures, weather conditions, and vibrations.
So, before you get anxious to fix your windshield, take your time to reflect on the type of silicone sealant best suitable for your use.
When to use silicone sealant for your car windshield?
When there are tiny invisible or visible cracks and splinters around your car's windshield causing leaks.
Certain car models are designed with tiny gaps between the windshield and its frame. This invisible gap allows the moisture to leak inside the car, and with time it aggravates; especially during fierce rain and winter.
Leaky windshields can lead to serious long-term problems for your vehicle - such as rust forming on metallic frames. This issue can be prevented if you use a silicone sealant.
How to apply windshield silicone sealant?
First, you need to identify the source of the leak using a hose. Splash water in your windscreen to spot the exact areas from where the moisture seeps in.
Then, you must act to protect your car's paint and windscreen by using thick strips of painter's tape. Carefully cover the car's frame and edges of the windscreen using multiple strips of tape. Take your time to line up the tape precisely, covering the glass and frame, but not the gap or gasket.
Check the surface around the leak for signs of rust or corrosion, and clean it thoroughly. Sand down the glass and use a paint sprayer kit to fix the damaged area as per requirements. By removing any corrosion or dirt, silicone will form cracks and form a neat and robust seal.
Make sure the silicone gel flows only slightly out of the tip of the windshield and glass sealant tube.
Gently place the tube into the gap in the windshield and squeeze it. Fill the gap with sealant until its level with the windshield glass and frame. Smoothen it gently with your fingers. The silicone sealant will continue to flow into the crevice as it gradually settles and dries.
Wait for 10-15 minutes for the windshield glass sealant to cure. Next, remove the tape from near the glass and windshield frame. Make sure you remove all tapes before the silicone dries.
Using rubbing alcohol and a clean rag, remove any windshield glass sealant from the car. If any extra sealant has dried on the windshield glass, you can use a razor blade to scrape it off carefully.
Note- Before exposing the sealant to hot or rainy conditions, allow the sealant to dry overnight.
How can Bondzil help you?
Bondzil is one of India's leading silicone sealant manufacturers offering a wide range of high-performance sealants serving everyday purposes, there is extensive research backed by technology & thinking. Our range of General Purpose Silicone Sealant is perfectly suited for automotive applications-
B-700 Silicone Sealant
View this post on Instagram
It is a General Purpose Silicone Sealant that vulcanizes on exposure to moisture in the air at room temp, it produces a flexible seal. It is suitable for construction(both indoor & outdoor), automotive, and marine glazing applications.
B-701 Silicone Sealant
It is antifungal, antibacterial, and cures at room temperature. It's resistant to Ozone, UV Radiation, and Extreme temperature and is ideal for indoor, and outdoor applications.
Check our complete range of General Purpose Silicone Sealants here.